Climate change and sustainable production is top of the priority list for architects and designers to reduce our impact on the built environment. Here are 6 environmentally friendly ways you can reduce your carbon footprint when choosing your windows, doors and curtain wall systems.
Aluminum has a life cycle that very few materials can match; it is infinitely recyclable. This means it can be recycled over and over without losing its properties or quality. That's not all, recycled aluminum uses just 5% of the energy required for producing primary metal, saving an enormous 95%. In fact, about 75% of all the aluminum ever produced is still in use.
2. Install Thermally Efficient Glass / Windows
Modern aluminum profiles like our ST Window Suite are designed with thermally conductive insulating cores, foams and gaskets and accommodate Low-E double or triple glazed units.
They meet and surpass Nearly Zero Energy Building (nZEB) and Passive House standards. This reduces the demand for heating, saving energy and considerably reducing CO2 emissions.
Our design team can conduct a project-specific thermal analysis for each proposed system on the project. Get in touch with us below to find out more.
3. Include Natural Ventilation
Ensuring refurbishments and new building designs have adequate and appropriate ventilation can have a significant impact on the building's performance. Natural ventilation removes the need for air conditioning, reducing energy consumption. This leads to a reduction in carbon emissions and operational costs and can help to achieve nZEB compliance.
Solar Shading or "Brise Soleil", as it's otherwise known, minimises the 'greenhouse effect' on the internal environment of the building. It controls the level of sunlight entering the building, which subsequently lowers the temperature.
Installing Brise Soleil on the external facade of a building is hugely beneficial to both the environment and the building's overall operating costs. Similar to natural ventilation, it substantially reduces the need for air-conditioning during the summer and consequently reduces energy consumption.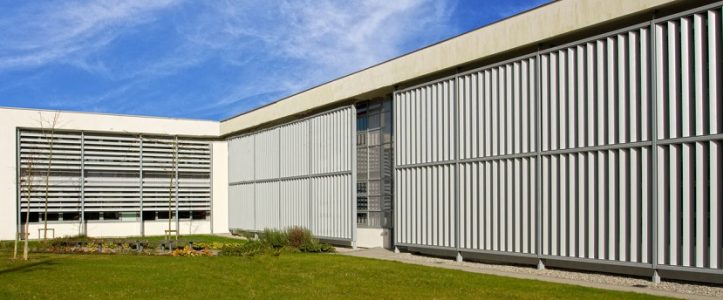 The primary issue with anodizing is that you cannot use secondary (recycled) aluminum billets. This means that every piece of anodized aluminum is extruded from primary aluminum billet (new raw material). One of the key benefits of aluminum is that it is infinitely recyclable. Anodizing it kind of defeats this purpose.
Alternative to anodized? Powder Coating. Powder coating is available with hundreds of color variants including anodic colors, designed to look like anodized aluminum.
Painted aluminum has a guaranteed long-term resistance to weathering and unlike an anodized finish, it can be restored on-site, quickly and easily without having to replace the profile.
6. Recycle Old Aluminum Windows

Choosing aluminum windows is not only a sustainable option when installing them, as they are infinitely and 100% recyclable the old aluminum window systems can be melted down, and reused in the production cycle. This is vitally important in the Circular Economy of the construction industry.  
Get in touch with a member of our team below