Versatile Design
Our ST90 window system is a leader in the evolution of fenestration systems. It has been specifically designed to meet the ever-increasing thermal efficiencies required by architects, design teams and their clients, reaching whole window Uw values as low as 0.71 W/m²K.
Our designers used the most up to date thermally conductive technology when designing this window to form a secure and highly insulated barrier against heat loss. We have developed a modern, thermally efficient, aesthetically pleasing window system with the ST90.
The ST90 has identical sightlines to match the rest of our ST window suite. This allows you to value engineer a project from elevation to elevation, or floor to floor and ensures specification compliance, budgetary constraints, and aesthetic appearance are never an issue.
Durability
Most of the components and materials used in our fenestration systems have been designed and selected for their durability and end of life recycling capabilities. With a maintenance-free life span of up to 30 years, the ST90 window system is the perfect choice for the most demanding and desirable commercial, institutional and residential developments.
Eco-Friendly
The eco-friendly tag placed on the ST90 window system is derived from the use of recycled aluminium and polyamides. Our products can have up to 50% recycled materials used in their manufacture. The ST90 should be the first choice for architects and designers who prioritise the protection of our environment.
Opening Possibilities
The ST90 comes with a variety of opening possibilities including tilt and turn, lifetime homes tilt and turn, bottom hung open-in, side and top hung open-out, bottom hung open-out (hopper) and side hung open-in.
Each one comes with a multi-point, wrap around locking system for added security. The versatility of the locking mechanism used in the ST90 window allows the designers to incorporate extra-large sashes in the building.
Glazing Opportunities
The ST90 offers you numerous glazing opportunities with triple or quadruple glazed units, ranging from 38 mm to 62 mm. This provides you with the ultimate acoustic performance, substantially reducing heat loss and noise pollution within workspaces or living quarters.
Finish
As with all our systems, the ST90 can be fabricated in our facility or delivered in stock lengths to meet the requirements of our customers. It's available in single or dual colour to the Qualicoat Powder Coat standards. With an extremely long service life and minimal maintenance required, the ST90 is the perfect solution for any project requirements from residential to commercial.
You can download our the ST90 Brochure here or access the manual by registering for our Technical Library above.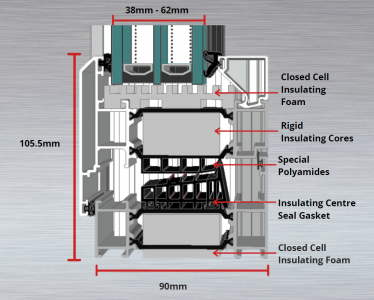 Designed for the ultimate in thermal efficiency.
Whole window Uw value as low as 0.78 W/m²K.
Tested to Pas 24 and SBD standards.
Elements of the window were chosen for their end of life recycling.
Tested to EN12101 smoke ventilation.
Single or dual colour available.
Triple or quadruple glazing up to 62mm in thickness.
New low conductive polyamides used in the window assembly.
| | | |
| --- | --- | --- |
| Frame Depth | 90mm | |
| BS 6375-1 | Air Tightness:                                        | Class 4 - 600 Pa |
| BS 6375-1 | Water Tightness:                                      | Class EN1050 - 1050 Pa |
| BS 6375-1 | Wind load resistance:                              | Class 5 up to 3000 Pa |
| BS 6375-2: | Operating forces: | Class 1 |
| BS 6375-2: | Mechanical strength: | Class 3 |
| BS 6375-2: | Repeated opening & closing (30,000): | Class3 (Heavy Duty) |
| PAS 24: | Security classification: | Certisecure |
*Whole window U values are a combination of the frame and glazing thermal performance and as such will vary with the specification of glass utilised. Please consult with the APA technical team for more specific performance information.